The NBA Addict!
Wednesday, September 29, 2004
8 Things About the MBA Program
Things learned so far during MBA interaction with admin/faculty:
You can't walk into an exam without studying the slightest bit and expect to ace it. Especially since the last time I faced an exam paper was when I was in college. Dang, and I wanted that

DLSU scholarship

… (FYI, a 95% entrance exam score supposedly gets you a partial scholarship)

Before going to a job interview, or a pre-MBA interview for that matter, brush up on your general industry knowledge. Meaning if you work for a food company, you better know the recent government policies that affected the price of your Chippy. Trust me, the guy isn't going to ask you neither how you executed a cost-cutting measure in your manufacturing plant, nor how you managed to systematize your computer files away from your desktop. Be a bit prepared. And while we're at it, lets hear a gripe about the industry that I am in:
The petroleum industry is assumed to sell only gasoline and diesel. Never mind that I work exclusively for the Lubricants department, the questions that were asked went to the direction of the gas stations. Which we only have about 50 of. Which I do not know a whit about.
Those wearing glasses are assumed to be intelligent. Young guys wearing glasses are assumed to be computer nerds. Upon my enlistment for the subjects to be taken up, the lady helping me exempted me from "Business Communications" and chalked me up to take an exemption exam on "Information Management". This after finding out that I took Industrial Engineering in college. And that has *what* to do with the computer hardware / software business? Hey, it could be my exam results that got me exempted, but I'm thinking the glasses had a lot to do with it. >:-)
Enroll early. Or face a hefty P200 late reg fee. Not like it was my fault, with the schedule of the entrance exam I had to get, it was impossible to enroll on time! So what's up with the late reg fee??? Come on, it's like it was set up for me to enroll late! *sulk*
It costs a lot of money to take up masters. Can you say nineteen thousand five hundred fifty nine? Say it again. Php19,559. That's for 2 subjects and a validating exam. Ö
Even if you already took the subject in college, its nuances will escape you until you've had a refresher. With my Management Principles course. I swear I had a subject on the different schools of thinking for management, but I came up with blank during discussion. As for my other subject, consider this: I took and passed a math subject, Probability for EE, and Probability for IE. Made me think I can sleep through my Management Statistics. Nuh-uh! I couldn't even correctly answer some of the sample questions! Grrr…. A direct result of the "Flush all information after exams" type of mentality.
And lastly, I learned that "heuristic" is supposed to be pronounced as "hoi-ris'-tik". Para bang "Tag Heuer". I was taken aback of course, because this challenged how I've pronounced it for a good 10 years or so. Naturally, I took it as gospel out of respect to the Course Instructor who backed up his claim by saying that he knew German, and so that's how he was sure. Of course, when I had the opportunity, I looked it up. And lo and behold:

Merriam-Webster

lists "heuristic" as hyu-'ris-tik, just the way I learned it from my esteemed UP and Pisay Professors. Props to the La Salle prof for knowing how the Germans, who originated the word, pronounce heuristic but unfortunately, we use English as the language here. Hello… haay. Bumalik na lang kaya ako sa UP? Tsk, tsk, tsk…
The NBA Addict posted up 9:23 AM |
link
|
|

Monday, September 20, 2004
An Isko's Nightmare.
Did you get to watch the
Ateneo - La Salle game yesterday
? For diehard Ateneans (e.g. Miko, Peter, Jake V., Eurose, Candy, etc. etc.) and La Sallians (my honey,
Soloflite
,
Elaine
(tama ba?), my sister Jomai, Janice, etc. etc.), alike, it was a must - watch. Students and alumni met, schemed on how to get hold of tickets, saved their favorite green/blue shirt for the game, and at the very least, blocked off their schedules so that they can catch it on TV. It's a phenomena already documented on paper, how amazingly zealous the graduates of these schools are. But what is an NBA addict to do in the offseason of the NBA? Watch this game of course, as this will surely be a treat: Basketball with emotions running high. But who to cheer for?
IMO, the standard UP grad would naturally cheer for their alegedly pompous Katipunan-based neighbors, as too many Di Pumasa Sa UPCAT jokes berating the La Sallians have been passed around in the campus. (Pop quiz: In a room, a million dollars, a humble Atenean, an industrious UP student, a virginal Assumptionista, and an intelligent La Sallian were in a room. Who will get the million? The UP student, because the rest don't exist.) At least, we say, the Blue Eagles approach us in intellect. Nyahahaha!
But then I remembered something..
I just enrolled in DLSU's MBA program last Saturday, which technically makes me a La Sallian.
Err....
GO LA SALLE!!! Beat the Tamaraws!!!! :p
The NBA Addict posted up 4:45 PM |
link
|
|

Tuesday, September 14, 2004
Personal Space in the Commuter's World
It has been taught in our ergonomics class that every person has a defined "personal space". Invasion from other people would elicit reactions, positive or negative, depending on the situation. For example, if a crush invaded your "space", it would possibly trigger a number of responses such as blushing, saying a muted "hi", or mumbling an incoherent response if ever she asks for the time. In other countries, just be within 2 feet of a person and someone is bound to shout out a "Good day!" or "Fine weather we're having."

But, isn't it weird that when we commute, we share our space with a fellow human being and not care? I mean, if you've ever been in an LRT (Light Rail Transit) during rush hour, you'd know what I'm talking about. It's not just space we share, sometimes we're so close with one another, you'd already be able to smell what soap he bathed with that morning. (Let's not even think about what happens if he didn't shower.) You do care, in a self-preservation kind of way, but as for interactions with your fellow person, it has been reduced to pushing and shoving. In a jeepney, people would be conjoined at the hip for an hour but you don't acknowledge the presence of the other people. Not unless they were sleeping and was trying to use your shoulder as a headrest.

Still, we apparently have a different set of social rules for commuters. I can come up with one right now: "Never initiate communications with a fellow commuter you don't know. Only do so in times of dire need, or when your well-being is at risk."

Just my thoughts on a traffic night on the commute...
The NBA Addict posted up 4:38 PM |
link
|
|

Friday, September 10, 2004
How to Misinterpret a Map
I'm about to go to De La Salle University (Taft Campus) for an interview to hopefully get myself admitted to their MBA program. It's scheduled later today, 5:30pm. My office is in Ortigas and I get off at 5pm. Hmm...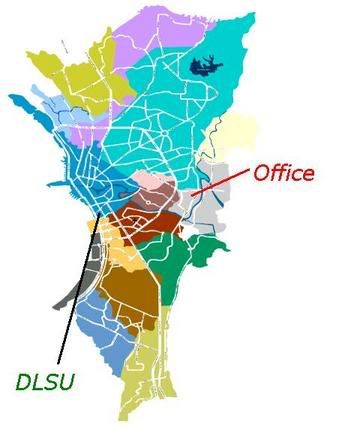 Courtesy of
http://www.onthemap.com.ph/
*measure, measure* 2 inches from Pasig to Manila. Anlapit lang pala e! Kayang kaya! :lol: j/k... Wish me luck!
The NBA Addict posted up 2:31 PM |
link
|
|

Wednesday, September 08, 2004
Irony in the Philippine Government
I was driving with my girlfriend last Saturday along EDSA from a trip to Makati. Saturdays without work, being a very vital commodity for a Unioil employee as myself, must be spent wisely... or on a girlfriend who just had her birthday. :p Anywhoo, while driving the northbound lane of C-4, I saw glimmers of siren lights on my rearview mirror. The traffic being not-so-friendly in north EDSA due to buses occupying most of the road while the private vehicles were mostly in the left side as well, the convoy then went to the yellow-lane side of the road. Guess who it was?
No, I don't know who it was for sure. But I did see that some blue towtrucks in the convoy, as well as catch the plate number of one of the vehicles: "8 MMDA".
Hmm. The implementor breaking the rules himself? Sounds ironic, but it's just another day in the circus that is the Philippine Government.
The NBA Addict posted up 1:23 PM |
link
|
|