The NBA Addict!
Thursday, February 24, 2005
Iverson Passes to Webber....
You read that right.
Philadelphia 76ers President and General Manager Billy King announced tonight that the Sixers have acquired five-time NBA All-Star forward Chris Webber, along with forwards Matt Barnes and Michael Bradley, in exchange for forwards Brian Skinner, Kenny Thomas and Corliss Williamson.
*from
NBA.com
Initial reaction: 76ers are instant contenders!
Naah. It's only a matter of time before Webber gets injured...
Anyway, what have we have here actually benefits both teams. 76ers get instant credibility, some rebounds, crisp passing and scoring from the post. A jump-shooting point-forward is perfect for coach Jim O'Brien's coaching style. Plus, AI now gets the All-Star help he has openly coveted so much. The worry now is injury; post trade they will have only Webber, Samuel Dalembert, and Marc Jackson as the legit pivot men. If one of the 3 gets injured (as is certain), there will be trouble since they will be forced to use Matt Barnes and Michael Bradley, the trade throw ins who are just that. The 76ers are gambling on an injury-prone Webber. They realize it's now or never for the Sixers to make a legit push for the postseason.
Iverson
is not getting any younger, and he is at his peak right now - some may even dare say a peak where there is no way to go but down.
As for the Kings, they get youth, athleticism, and depth, something they lacked for the longest time. Unlike Philly, they weren't willing to gamble on Webber's shaky knees but instead is placing the load on its 4 stars:
Mobley
,
Bibby, Brad Miller,
and
Peja.
Considering that the Kings have shown they can win without Webber, how well Miller and Stojakovic plays without him, and how things can only get better when
B-Jax
returns from his injury, Webber really was the most logical candidate to go. That's not even counting his Whopper of a contract. Plus, Kenny Thomas and Brian Skinner may still improve. They have shown flashes of brilliance last season and may just be waiting for the right system for their talents.
Advantage in the trade? Short term - 76ers (barring an injury), long term - Kings.
Now I got to go back to studying... got a Business Law exam later. Can't rely on stock knowledge this time around. What has I.E. got to do with Business Law?? Anyway, wish me luck!

The NBA Addict posted up 2:59 PM |
link
|
|

Tuesday, February 22, 2005
Retirement of a Great One
If you had played basketball with me, you would've found out that I have a borderline obsession with the 3-point shot. I love taking the 3, and I love it when it goes in for me. (Which is around 1 out of every 10 times, and only during shootarounds - never when it'll count in games)
The main reason why I love the 3-ball is Reggie Miller. Ever since I watched his 8-points in 8.9 seconds performance (1995, Eastern Conf. Semis, vs New Choke Knicks), I was a Miller-time junkie. He was clutch. He was there when you needed him, and most He's the reason why I used to practice with my back to the basket out on the 3-point area, dribbling, then suddenly turning and firing up a shot (Miller does this during pregame shoootarounds, turning when the shotclock is at "1".) This is the reason why I wanted to develop that weird-looking follow-through that Miller has on his shot (it seems to me that his hands flick sideways after each J). But most importantly for me, he is the biggest reason that pushed me to know more teams aside from the Jordan-led Bulls and barangay Ginebra, and subsequently made me want to know more about the NBA in general.
You will be sorely missed. Especially since there will probably be no one else quite like you.*

And you're always welcome to change your mind about retiring. Ü

P.S. As requested by Sherwin Ü


*Not just a cliche, since the closest comparison is Richard Hamilton, and he doesn't shoot 3's. Michael Redd? We'll see....
The NBA Addict posted up 11:59 AM |
link
|
|

Monday, February 14, 2005
Wala nito sa bundok ko.
Guess where?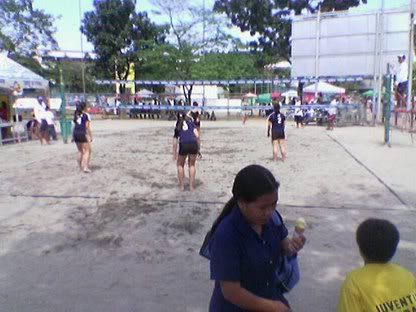 Nope, not at Subic. Nor at Puerto Galera. Try Mandaluyong City. Ortigas Avenue to be exact.
It's actually at the La Salle Greenhills (LSGH) Campus Fair grounds.
Wow. As in wow with a :-O
Wala nun sa bundok ko a.


Another one of the things I saw at LSGH: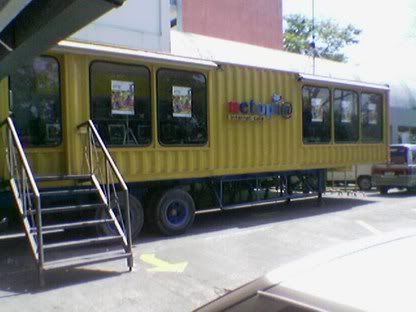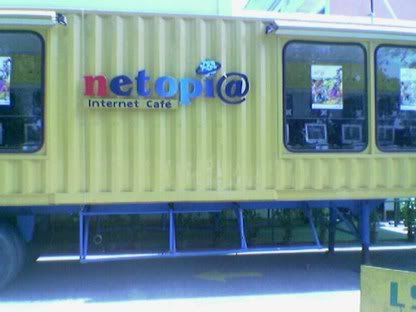 You know the container vans used by trucks to haul products from pier to pier? Those things that scare the heck out of you on the road, because you never know if its just gonna fall on you? A 40-foot container was converted to a network gaming facility, of all things. And it was inside LSGH as well.
Wow. As in wow with a o_O. La Salle openly accepts Counterstrike as an extra-curricular activity! Sorry, this is from a guy that spent too much time on Doom2 and Starcraft. Probably cost me 2 years of my life... anyway...
Iba na talaga ang kabataan ngayon 'no?
Back in the day, fairs were mostly kissing booths, marriage booths and assasination booths (you DON'T want to know what that is, much less experience it). Now its Nestea Beach Volleyball Tourneys and Netopi@-sponsored network gaming tournaments....
Sudden realization: Commercialism really runs deep. And it is slowly but surely dictating the lifestyles of the future of our nation.
I don't know where I'm going with this. I just wanted to share the pics with you, as well as the feeling I got from it all - I was incredulous.
'Till the next post...
The NBA Addict posted up 2:00 PM |
link
|
|

Thursday, February 10, 2005
NBA All-Star Musings
7 players will play for the first time on the All-Star game in Denver. Teammates
Gilbert Arenas
and
Antawn Jamison
of the Wizards, Argentinian
Ginobili
, Super Sonic
Rashard Lewis
, Man-beast
Amare Stoudamire
, "The Flash"

Dwyane Wade

, and of course, The Baron,
LeBron
. All are deserving. But many, like
Steve Francis
,
Jason Kidd,
and
Chauncey Billups
, are as deserving but didn't make it. But fret not, at least for the Westside players with All-Star aspirations: there is hope, because Kobe might not play. Tim Duncan might not either. But I'll assume only Kobe won't, for the sake of simplicity :)
So, with a lineup of

Tim Duncan

(F/C),

Kevin Garnett

(F),

Tracy McGrady

(F/G),

Yao Ming

(C),

Ray Allen

(SG), Manu Ginobili(G/F), Rashard Lewis(SF),

Shawn Marion

(F),

Steve Nash

(PG),

Dirk Nowitzki

(F), and Amare Stoudemire(F/C), who do you add to replace Bryant?
If one were to ask me, I'd use a few criteria:
1) Must have contributed significantly to his team(considering injuries): both in intangibles and in empirical terms;
2) Must be a star or a fan favorite, or at least have the potential to be one;
3) Must be a logical choice to help out the West team; and
4) Being on a winning team is a bonus.
Using that, we look at the first criteria to come up with a short list: crunch the numbers. Thankfully, Fantasysports@Yahoo! does that with "Sort Players Via Rank", using their contributions in Pts, Reb, Ast, FG%, FT%, 3pointers made, etc etc. I won't bother to explain, but if you signed up for a league you know what I mean :)
Injuries play a factor here, since the ranking considers totals, not average on a per game basis, so tough luck to

Kirilenko

,

Webber

, and

Baron Davis

, who have been impressive when they were healthy, but didn't play enough games to balance it out.

Anyway, the short list goes like this:
a)
Q-Rich
(F/G), Phoenix. Mainly here because of his 3-point shooting, since 3-pointers made is equally valued in Fantasy Sports as, say, points or steals. So I guess we'll see him in the 3-point shootout. Besides, Phoenix already has 3 players in the All-Star team. One more and the Kings fans will boycott the NBA. Speaking of which:


b)
Brad Miller
(C), Kings. The whole Kings team was snubbed in the All-Star proceedings, but their fans are praying for a no-show by Bryant so that they have a chance to sneak one player in. And Miller is their best chance, at least numerically. His season numbers may not scream at you, but he's making a late-mid-season push. On his last 5 games, he averaged 21-10-4-2-1.2, considerable numbers indeed. He's been to the midseason festivities already, but he's challenging for a roster spot on a lineup that, sans Bryant, is stocked with big men. Besides, the All-Star game is for the fans, and have you seen anyone who is a die-hard Brad Miller fan? He's the third option in his own team, given that everyone's healthy.


c)
Mike Bibby
(PG), Kings. Another King that has a shot at being an All-Star. I like his chances better than Miller's because 1) He's a PG - Nash will need a backup in the game; and 2) He doesn't have an All-Star appearance on his resume yet - hey, there already are 7 newbies on the rosters, why not one more? Both Miller and Bibby have slightly improved on their point production since last season, but Bibby impoved in the other aspects of the game as well: passing, steals, even rebounding, partially filling the void Doug Christie left. Also, he already has a following in the NBA due to his clutch shooting, so its about time the NBA gave him his due.
I guess I've made my choice, but let's continue the list for formalities' sake.
d)
Damon Stoudamire
(G), Blazers. He's been playing great as of late, but the main things against him are: he plays for a losing team, and his Fantasy ranking is buoyed by 3-points made. I expected him at the 3-point shootout, but he got beaten out by Ray Allen,

Radmanovic

(both from Seattle), and

Joe Johnson

(Phoenix).
e)
Peja Stojakovic
(SF), Kings. The 3rd possible candidate for the Kings 1) has regressed from his 24ppg self to a 20ppg producer on a franchise that has an injured key player in 81 of 82 games played; 2) hasn't asserted himself on offense, enough for Petrie to trade for even more offense. Not a very good year to make a case for the man formerly known as Predrag.
f)
Elton Brand
(PF), Clippers. He plays for a winning team, but rarely puts in clutch performances to help out when everything is on the line. Why do you think

Rick Brunson

has been attempting all the game-winners all season? In any case, the West lineup is overloaded with forwards, so I guess it's good luck next time Elton.
So if Kobe doesn't suit up, I'd bet on Bibby making the cut. :) But of course, one never knows what the Commish is thinking, he may go with the most famous
of the snubbed
:

Carmelo Anthony

. Drug issues aside,
he did get the most fan votes of those not selected. Who knows? Maybe the oft-injured will replace the injured as well.

Basta,

let's just enjoy the weekend! :)

The NBA Addict posted up 9:55 AM |
link
|
|