The NBA Addict!
Monday, February 14, 2005
Wala nito sa bundok ko.
Guess where?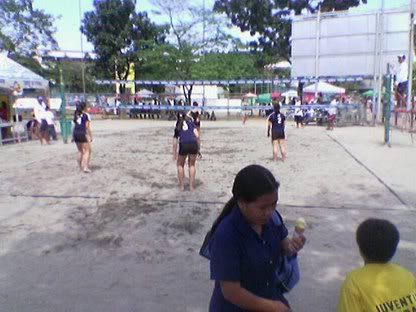 Nope, not at Subic. Nor at Puerto Galera. Try Mandaluyong City. Ortigas Avenue to be exact.
It's actually at the La Salle Greenhills (LSGH) Campus Fair grounds.
Wow. As in wow with a :-O
Wala nun sa bundok ko a.


Another one of the things I saw at LSGH: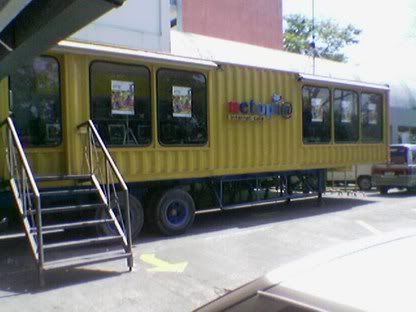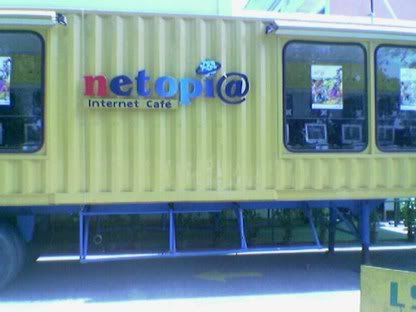 You know the container vans used by trucks to haul products from pier to pier? Those things that scare the heck out of you on the road, because you never know if its just gonna fall on you? A 40-foot container was converted to a network gaming facility, of all things. And it was inside LSGH as well.
Wow. As in wow with a o_O. La Salle openly accepts Counterstrike as an extra-curricular activity! Sorry, this is from a guy that spent too much time on Doom2 and Starcraft. Probably cost me 2 years of my life... anyway...
Iba na talaga ang kabataan ngayon 'no?
Back in the day, fairs were mostly kissing booths, marriage booths and assasination booths (you DON'T want to know what that is, much less experience it). Now its Nestea Beach Volleyball Tourneys and Netopi@-sponsored network gaming tournaments....
Sudden realization: Commercialism really runs deep. And it is slowly but surely dictating the lifestyles of the future of our nation.
I don't know where I'm going with this. I just wanted to share the pics with you, as well as the feeling I got from it all - I was incredulous.
'Till the next post...
The NBA Addict posted up 2:00 PM
5 Comments:
nakaka miss ang assassination booth :P

ganda na ng LSGH ngayon. nung bata ako puro field yan e. dun binubugbog mga
Parang masaya dun!
Hehehe. Netopia. Lupit!
@solo flite dun binubugbog mga...?

@ clair Honga lupet! kung ala nga akong exam that day pinakitaan ko sana sila ng skillz ko sa counter!!! (yeah right, coz my frags never exceeded my death count sa skies back in the day...)
yan na ba ang mga "fair activities" ngayon? tsk tsk. hataw ah.

pero mas maganda pa rin ang "fair" natin dati lalo na sa mga naka-experience ng "kissing booth at marriage booth" nyahaha..
Your l33t hax0r skillz shall be ph3ar3d!
j00 pw33n th3m!

Bwahahahahaha!