The NBA Addict!
Friday, June 24, 2005
And the 2005 NBA Champs...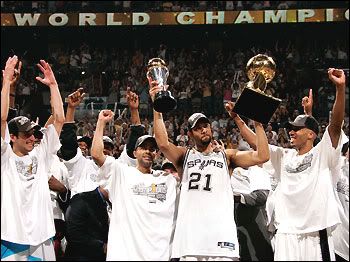 Congratulations to the 2005 World Champions, the
San Antonio Spurs
!
They got it in 7, but I forgive them for screwing with my bracket. XD
The NBA Addict posted up 2:31 PM |
link
|
|

Wednesday, June 15, 2005
Either He's Crazy or He's Crazy.
Or, he got blinded by the money. In any case,
Phil Jackson
coaching the Lakers again
after all he's said against the organization (not to mention its only star) during his vacation time pumps a bit of life and hope into a moribund LA franchise. Will he succeed? If he does within the next 3 years (and I'm talking about success = championship here, however unrealistic that is), he would really become the best
NBA
coach of all time, period.
Plus, this is a situation that Jackson has never found himself in - coaching a team with gaping holes in vital areas of his style - ball handling, big men, and defense in general. At least this proves he didn't take the job to easily break
Red
's championship record. So did he take it to prove that he can win with spare parts? Or maybe he did it for Jeanie?
Also, just a side note - With a 3-year, $10M/season contract, he will make more money than any of his players except Bryant and Odom. That in itself shows respect should be forthcoming from at least the lesser guys in the team. But to get respect from Kobe, they have got to win. That's the only time Kobe will forget about all the "uncoachable, etc." comments Phil Jax made. If they continue losing, they will continue to have their soap opera.
------------------------------------------------------
NBA Finals update - Series tied 2-2. I predicted Spurs in 6. Before the season started I said Detroit will repeat. We'll see.
The NBA Addict posted up 7:42 AM |
link
|
|

Tuesday, June 07, 2005
The NBA Finals, Firefox Woes, and the Dark Tower
Blogger and Firefox conspired against me today. I've had the system crash on me thrice four times while I was making a post.

Lesson: use Notepad.

Auxiliary lesson: The office PC cannot handle Firefox, YM, Nokia PC Suite, and 3 open 11MB MS Excel files at the same time.
------------------------------------------
I was supposed to post on the NBA matchup between the Detroit Pistons and the San Antonio Spurs. But Firefox 1.04 crashed on me twice, and I've found myself writing a shorter and shorter take on the matchup. My first iteration was a full-blown analysis, with matchup comparisons and what-not. The second pass was a summarized version of that, but the Grey Box of Death did not allow me to save that. So, my take on the matchup that half the basketball world expected (the other half was in denial, wanting anything but a Pistons-Spurs Final):
Spurs too good right now. They'll take it in 6.
Jeez. That was just 10 words. And I was already at 600+ words in my 1st iteration.
------------------------------------------
Just downloaded the Dark Tower eBooks in RepliGo format (eBook reader for Nokia 6600). I've been waiting for it for quite a while and I'm quite happy that I finally have it. I guess I should be using a lot of exclamation points by now but I'm sort of guilty I didn't buy a book that I really wanted to read.

But in full rationalize-mode, I tell myself that I don't have the thousand pesos to buy the book with anyway. Plus, I was just going to borrow the books from a friend so I'll just look at it as a way to make the situation easier for all of us. Except Mr. King of course.
Piracy, smiracy. Personally, my rule is: Buy local, download (or buy pirated) foreign. ;-)
------------------------------------------
Random thought of the day: Kelan kaya iba-ban ulit ng MIS namin ang YM? Hmm...
------------------------------------------
Lastly, visit Joey's post on the extracurriculars that happen in a gym. Read through the comments. Then again, maybe you shouldn't get a sneak peek. Warned you.
The NBA Addict posted up 3:12 PM |
link
|
|

Friday, June 03, 2005
Liz Has Passed Away...
Tiga-UP Eng'g ka ba? Bumili ka na ba dati ng bluebook, corn bits, cloud nine, yellow pad, atbp. sa IE Department? Dapat kilala mo si Liz.
Patay na siya. Biglaan.
As written by Dangs in her email:
felizardo bernal (our friendly dept "secretary") passed away this morning. hinimatay daw sya sa dept, and then the faculty brought him to the infirmary. nag-lock jaw pa daw ata. di naw daw sya na-revive. this happened around 11am.
Damn.
Death waits for no one. And claims its own in its own time.
We wish you well, Liz. The IE department would never be the same without you. Kung hindi man natuloy ang mga balak mo sa buhay, sa ngayon naman sigurado kami na nakamtan mo na ang kaligayahan na makukuha sa piling Niya.
The NBA Addict posted up 3:11 PM |
link
|
|